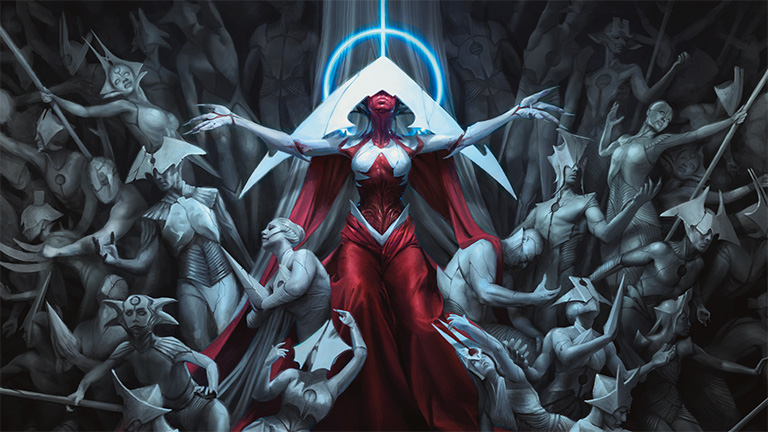 To celebrate partnerships of all kinds, comradery, and the Phyrexian unification of the multiverse, The Missing Piece begins a series of Two-Headed Giant events! To start things off, we're holding a partnered draft format. When drafting in Two-Headed Giant, you and your teammate will be sat next to eachother in your drafting pod and both look over each pack. The team gets to pick two cards from the pack before passing it to the next team. This continues until all packs have been opened and drafted from. Then your team looks over the cards you've drafted and build two decks.
5:30pm – Registration begins for players who didn't sign up via our website. This is also a great time so meet the other players and order food and drinks.
6:00pm – Drafting and deck building begins! We'll be starting this process exactly at 6, so please arrive promptly if you can.
6:50pm – Rounds begin. There will be three 50 minute rounds. Your team starts with 30 life, and you take your turns together. You may show your teammate your hand and strategize together. Effects of cards that target a single player will behave normally, but if a card mentions that it effects all opponents, then both team members of the opposing team are affected. For example, a spell that deals 3 damage to each opponent will inflict a total of 6 damage to the team, 3 damage to each opponent.
Around 9:45pm – Prizes are awarded! 1st, 2nd, and 3rd place will get booster packs. 4th, 5th, 6th, 7th, and 8th will get promo packs. All participants will get a promotional Magic card as well as a Missing Pawn card to use during our Piecing It Together Events.