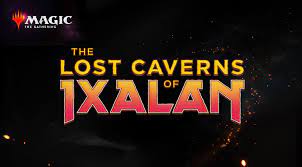 Welcome Planeswalkers, to a Jurassic adventure deep beneath the amazing plane of Ixalan! With the set being officially releaced, let's selebrate with a format of blood-thirsty conquest: Draft!
5:30pm – In person sign ups for the event begin. This is also a great time to get food, drinks, and to chat with the other event participants.
6:00pm – Drafting begins! We will start drafting promptly at 6, so be sure to get here with plenty of time to get any supplies you might need. Players will have 50 minutes to draft and deck build.
6:50pm – Round 1 begins. There will be three 50 minute rounds, during which, players will play a best 2-out-of-3 match.
Around 9:30pm – Prizes will be awarded! 1st, 2nd, and 3rd place will receive Booster Packs, 4th, 5th, 6th, 7th, and 8th place will get Promo Packs, and all participants can expect to get a promotional Magic card as well as a Missing Pawn card for our Piecing It Together events on Sundays!