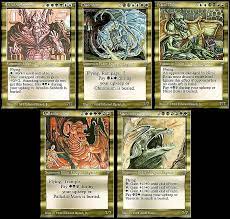 As we're about to return to the center of the MTG multiverse, why not celebrate early with a call back to the beginnings of Commander? Players will be required to have their commander be one of the following cards: Nicol Bolas, Nicol Bolas, The Ravager, Arcades Sabboth, Arcades, The Strategist , Chromium, Chromium, the Mutable, Palladia-Mors, Palladia-Mors, The Ruiner, Vaevictus Asmadi, or Vaevictus Asmadi, The Dire. This is because when the format was first created, the only legal commanders were the original 5 Elder Dragons. We will also be playing with the ancient rule of mana burn. This means if you lose any mana by moving to a new step or phase of a turn, you take 1 point of damage for each mana lost. So choose your draconic ally, and relive the old days of Elder Dragon Highlander!
5:30 – Registration begins for players that didn't register on our website. This is also a great time to grab some food and drinks while you're waiting for the event to begin.
6:00pm – Rounds begin! There will be two 90 minute rounds, during which, players will compete for achievement points. Points will carry over from round to round and determine what prizes a player is awarded.
Around 9:00pm – Prizes are awarded! 1st, 2nd, and 3rd place will get booster packs. 4th, 5th, 6th, 7th, and 8th will get Promo Packs, and all players will receive a promotional Magic card* as well as a Missing Pawn card that can be used during our Piecing It Together events on Sundays!
* While supplies last.