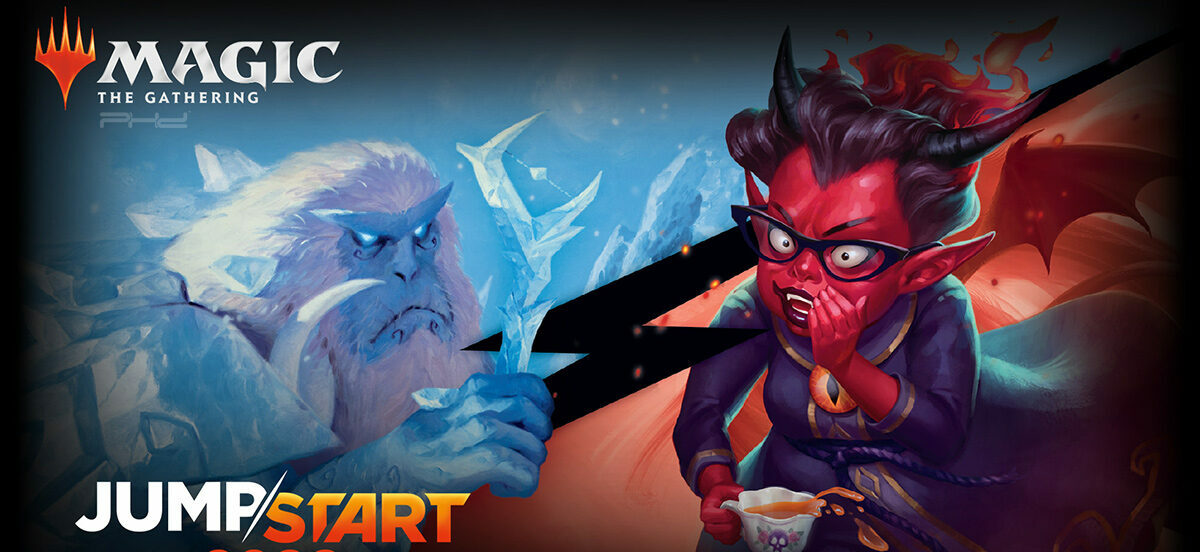 What's more fun than a White Elephant party? A White Elephant that ends with some great games of Magic: The Gathering of course! So what is a White Elephant Draft? Well, you see…
Each player will pick two JumpStart Booster Packs from our available selection, and those packs will be placed in the middle of the draft table. There will enough packs for each player to get four packs. Players take turns doing 1 of 3 actions: Take a pack from the middle, steal a pack from another player, or open a pack. Players cannot steal packs until all of the packs in the middle have been taken, and once a pack has been opened, it can only be stolen once, and then never again. Once a player has 4 open packs that can't be stolen, they are no longer able to steal a pack, and once all players have 4 open packs in front of them, the draft is over! Players then take 2 of their 4 packs and shuffle them together, creating their first deck, and repeat the process with their other 2 packs to make their second deck. Any time between games, a player may switch which deck they wish to play with.
5:30pm – Registration begins for players who didn't sign up via our website. This is also a great time so meet the other players and order food and drinks.
6:00pm – Drafting and deck building begins! We'll be starting this process exactly at 6, so please arrive promptly if you can.
6:50pm – Rounds begin. There will be three 50 minute rounds.
Around 9:45pm – Prizes are awarded! 1st, 2nd, and 3rd place will get booster packs. 4th, 5th, 6th, 7th, and 8th will get promo packs. All participants will get a promotional Magic card as well as a Missing Pawn card to use during our Piecing It Together Events.